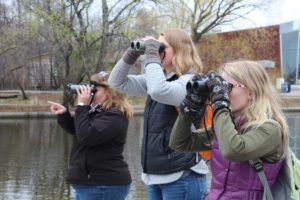 Our Spring banding season started off with Part 2 of our Bird Banding Workshop on April 27th and 28th. We had very poor weather (snow) and only caught a handful of birds. Luckily we were able to do some practicing inside and we all learnt quite a bit!
Don't worry if you missed our banding workshop! We will be having another one in November.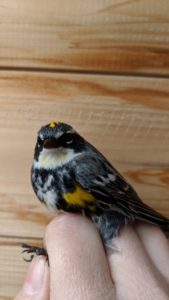 Again, due to poor weather the first few days after the workshop weren't very fruitful. Our patience with the weather, however, was rewarded with a wave of warblers! Wednesday, May 8th we banded 139 birds in two hours. 85 of those birds were Myrtle Warblers. It was BANANAS!
This year our Bander in Charge is once again, the lovely Kelsey Bell. She will be banding Mondays, Wednesdays, Fridays, Saturdays, and Sundays for the month of May. Feel free to stop by to say hello and see some bird banding in action! Banding has also picked up since May 8th and is getting more exciting every day.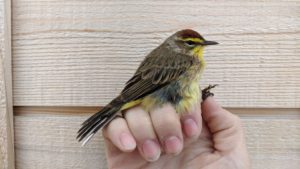 This year we are once again participating in The Great Canadian Birdathon! Our Birdathon day was May 12th and it was absolutely amazing! We have a list of 177 different species from 10 different locations. Two of those locations were in Ontario: Rondeau Provincial Park and Point Pelee. Some highlights included a Blue-headed Vireo, Prothonotary Warbler, Northern-rough Winged Swallow, Upland Sandpiper, Mountain Bluebird, and several other species of warblers, shorebirds, and birds of prey!! Check out our species list below.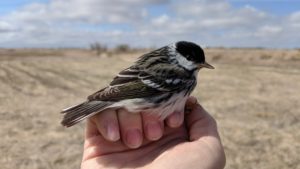 So, thanks to our volunteers the Birdathon birding day was a complete success but we haven't reached our fundraising goal yet. But don't worry there is still time to donate! Check out our fundraising page, donate and show your support!!
Help us help birds!
https://www.canadahelps.org/s/v47rz
---
Birdathon Species Lists
MANITOBA
ONTARIO
·       Greater White-fronted Goose

·       Snow Goose

·       Ross's Goose

·       Canada Goose

·       Tundra Swan

·       Wood Duck

·       Gadwall

·       Mallard

·       Blue-winged Teal

·       Northern Shoveler

·       Northern Pintail

·       Green-winged Teal

·       Canvasback

·       Redhead

·       Ring-necked Duck

·       Lesser Scaup

·       Bufflehead

·       Common Goldeneye

·       Hooded Merganser

·       Common Merganser

·       Ruddy Duck

·       Ruffed Grouse

·       Sharp-tailed Grouse

·       Horned Grebe

·       Red-necked Grebe

·       Western Grebe

·       American White Pelican

·       Double-crested Cormorant

·       American Bittern

·       Great Blue Heron

·       Turkey Vulture

·       Osprey

·       Bald Eagle

·       Northern Harrier

·       Cooper's Hawk

·       Broad-winged Hawk

·       Swainson's Hawk

·       Red-tailed Hawk

·       American Kestrel

·       Merlin

·       Sora

·       American Coot

·       Sandhill Crane

·       Semipalmated Plover

·       Killdeer

·       American Avocet

·       Spotted Sandpiper

·       Solitary Sandpiper

·       Greater Yellowlegs

·       Willet

·       Lesser Yellowlegs

·       Upland Sandpiper

·       Marbled Godwit

·       Least Sandpiper

·       White-rumped Sandpiper

·       Short-billed Dowitcher

·       Long-billed Dowitcher

·       Wilson's Snipe

·       American Woodcock

·       Wilson's Phalarope

·       Franklin's Gull

·       Ring-billed Gull

·       Forster's Tern

·       Rock Dove

·       Mourning Dove

·       Great Horned Owl

·       Boreal Owl

·       Eastern Whip-poor-will

·       Ruby-throated Hummingbird

·       Belted Kingfisher

·       Yellow-bellied Sapsucker

·       Downy Woodpecker

·       Hairy Woodpecker

·       Northern Flicker

·       Pileated Woodpecker

·       Least Flycatcher

·       Eastern Phoebe

·       Blue-headed Vireo

·       Bluejay

·       Black-billed Magpie

·       American Crow

·       Common Raven

·       Horned Lark

·       Tree Swallow

·       Purple Martin

·       Northern Rough-winged Swallow

·       Barn Swallow

·       Cliff Swallow

·       Black-capped Chickadee

·       White-breasted Nuthatch

·       Brown Creeper

·       House Wren

·       Golden-crowned Kinglet

·       Ruby-crowned Kinglet

·       Mountain Bluebird

·       Swainson's Thrush

·       Hermit Thrush

·       American Robin

·       European Starling

·       Yellow-rumped Warbler

·       Ovenbird

·       Northern Waterthrush

·       Black-and-white Warbler

·       Orange-crowned Warbler

·       Nashville Warbler

·       Common Yellowthroat

·       American Redstart

·       Cape May Warbler

·       Yellow Warbler

·       Blackpoll Warbler

·       Palm Warbler

·       Wilson's Warbler

·       American Tree Sparrow

·       Chipping Sparrow

·       Clay-colored Sparrow

·       Vesper Sparrow

·       Savannah Sparrow

·       Song Sparrow

·       Lincoln's Sparrow

·       Swamp Sparrow

·       White-throated Sparrow

·       Harris's Sparrow

·       White-crowned Sparrow

·       Dark-eyed Junco

·       Rose-breasted Grosbeak

·       Red-winged Blackbird

·       Western Meadowlark

·       Yellow-headed Blackbird

·       Brewer's Blackbird

·       Common Grackle

·       Brown-headed Cowbird

·       House Sparrow

·       House Finch

·       Pine Siskin

·       American Goldfinch

·       Mute Swan

·       Greater Scaup

·       Lesser Scaup

·       Common Merganser

·       Red-breasted Merganser

·       Wild Turkey

·       Common Loon

·       Double-crested Cormorant

·       Great Blue Heron

·       Great Egret

·       Killdeer

·       Lesser Yellowlegs

·       Ring-billed Gull

·       Herring Gull

·       Common Tern

·       Mourning dove

·       Eastern Screech-Owl

·       Ruby-throated Hummingbird

·       Red-headed Woodpecker

·       Red-bellied Woodpecker

·       Northern Flicker

·       Willow Flycatcher

·       Great Crested Flycatcher

·       Eastern Kingbird

·       Warbling Vireo

·       Blue Jay

·       Tree Swallow

·       Barn Swallow

·       Tufted Titmouse

·       Red-breasted Nuthatch

·       House Wren

·       Carolina Wren

·       Veery

·       Wood Thrush

·       Gray Catbird

·       Brown Thrasher

·       European Starling

·       Blue-winged Warbler

·       Prothonotary Warbler

·       Tennessee Warbler

·       Cape May warbler

·       Northern Parula

·       Magnolia Warbler

·       Bay-breasted Warbler

·       Blackburnian Warbler

·       Chestnut-sided Warbler

·       Black-throated Blue Warbler

·       Pine Warbler

·       Black-throated Green Warbler

·       Canada Warbler

·       Eastern Towhee

·       Field Sparrow

·       Scarlet Tanager

·       Northern Cardinal

·       Rose-breasted Grosbeak

·       Orchard Oriole

·       Baltimore oriole

·       House Sparrow

·       American Goldfinch

·       Blue-Gray Gnatcatcher