Did you know that Delta Marsh Bird Observatory is involved in a few other banding projects in Manitoba!?
We work with The Manitoba Peregrine Recovery Project, The Manitoba Burrowing Owl Recovery Project and Tall Grass Prairie MAPS Banding near Tolstoi.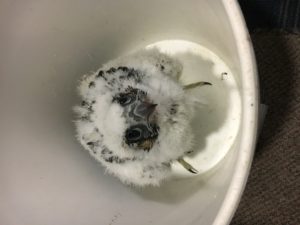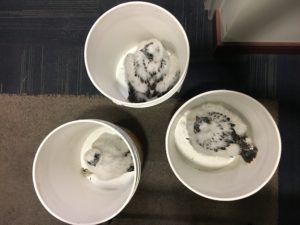 A few weeks ago we got to take part in Peregrine Falcon Banding in Winnipeg. The young birds are banded to monitor their migration and to identify them in future.
We got to witness 3 young Peregrines be banded. It was LOUD. Each chick is given two bands, one is a colour band with an easily read number and letter on it and the second is a metal band with a 9-digit number on it.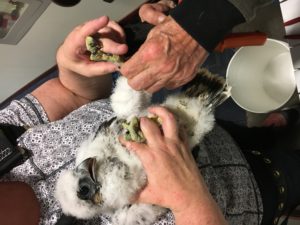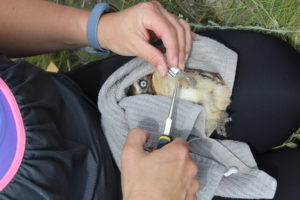 Each bird was banded and then placed back in their nesting platform much to the parent's relief.
We also did a day trip to visit one of the Burrowing Owl nesting sites. Not only were the owls cool but the birding was amazing! Southwest Manitoba never disappoints. We arrived at the site and were greeted by a Say's Phoebe and then we heard both Sprague's Pipit and Chestnut-collared Longspurs. After being onsite for about 20 minutes a Ferruginous Hawk slowly soared over.
26 young owls were banded, they were all 2-4 weeks old. Each one gets a colour band and an aluminum 9-digit band as well. Once banded and weighed they are placed back into their burrows.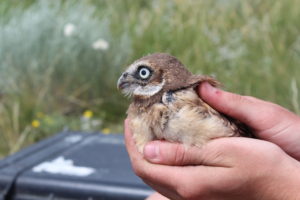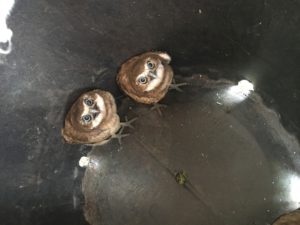 The Manitoba Burrowing Owl recovery project works to reintroduce Burrowing Owls into their historical habitats in Southwestern Manitoba in the hopes that they will return. They create artificial burrows to provide the owls with nesting sites. They have placed about 190 burrows around Southwest Manitoba. They work with the Assiniboine Zoo to overwinter some adults to keep the project going each year.
Each experience was very interesting to see and to participate in. Thanks to each banding project for having us out! Our next visit will be to the Tall Grass Prairie MAPS banding near Tolstoi! We are looking forward to it!
— Meredith Stoesz